Playing Outdoors in the Winter (A-E)
We play outside in all weather and all seasons! Sure, some days it's only 10 minutes, bundled an then rushing inside for a cup of hot cocoa. But even on the windy and snowy days, we like to get outside. And if you are playing outside, in the winter, you need to get moving!

This is the first in a series of 5 posts with the ABC's of how to get outside and PLAY this winter!
A is for Animal Tracks
We love
exploring animal tracks
. We investigate the tracks left by local animals. Frequent visitors to our yard, and local parks, are birds, squirrels, dogs, cats, and deer. This is especially when snow blankets the yard.
B is for Bubbles
Bubbles are great for outdoor play in the winter. The bubbles last longer and are slightly harder to pop, which thrills my boys. Chasing bubbles never fails to get the kids moving – and keep them warm!
C is for Coloring Snow
Add some color to the snow. Use spray bottles filled with water and food coloring. Or crush up sidewalk chalk and mix it with water. Freeze ice cubes with colored water, and hide them in the snow. Or let them melt and watch the colors blend together.
D is for Draw
Pick up branches, drag them along behind you, knock snow off of trees. Use branches or your (gloved) hands or feet to draw pictures, letters, shapes, make trails.
E is for Experiments
Try some experiments outside to illustrate physical differences dependent on temperature.
Ice experiments: Try to see how you can get ice to break (we like to drop it on our patio, or stomp on it). See if salt stops water from freezing. Get 2 similar containers. Put plain water in one, dissolve salt in water in the other, and see which freezes. You can also observe the time it takes for the water to freeze.
Snow experiments: Bring snow inside. Leave some on the counter, put some in the refrigerator, some in the freezer. Compare the rate at which they melt. Measure the snowfall.
Be sure to check back here for the rest of the ABC's of Outdoor Play. And check out these other ABC's of learning through play: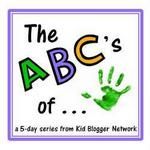 Thank you for stopping by! For more ways to learn and develop imagination through adventure, play, reading, and nature, please join us on Facebook or follow along on Pinterest.