ABC's of Winter Outdoor Play (U-Z)
Our final 6 ways to play outdoors this winter are here!
U is for Uncover
When we get a thick snowfall, it obscures the familiar backyard objects. We guess what's under the white bumps in the yard. It becomes a treasure hunt in our own yard!
V is for Very Hot Chocolate
Ok, I know that's a stretch for V. But I'm at the end of the alphabet and I realized that I hadn't shared one of our favorite winter activities! I bring a thermos of hot chocolate with us to the park for short winter picnics, and an easy way to warm up a bit. We also bundle under blankets on our front step, with a mug or thermos of hot chocolate, reading or just enjoying some time outside.
W is for Wagon Rides
Grab some blankets and get your kids into the wagon for a ride around the neighborhood! Or let them pull the wagon themselves. My preschooler pulls his little brother around in the big wagon. And we have a small wagon that the boys pull, collecting treasures as the go.
X is for X Marks the Spot
X marks the spot! We have played treasure hunts, and pirates. Pretend play ideas engage the kids. They love pretending to be superheroes or knights, princesses, or dancers. We set up backyard rescue missions and dance competitions, pretend cooking exhibitions.
Y is for Yell
For my boys, yelling and moving around seem to go hand in hand. The louder we are, the more we're moving around. One of our favorite games is ball-less baseball, where we pretend to be batting and fielding baseballs, while yelling out the plays.
Z is for Zero (and other numbers!)
Water freezes at 0 degrees Celcius. We have an outdoor thermometer (measuring both Fahrenheit and Celcius), so we point to the numbers, and discuss how cold it is when it's 0 degrees Celcius (and 32 degrees Fahrenheit). We also use other number measurements: snowfall with a ruler, collect rain in a jar to measure. Or we gather pinecones or acorns for some counting games.
I hope this series has inspired you to get bundled up and get out and play! Be sure to check back here for the rest of the ABC's of Winter Outdoor Play (
A-E
), (
F-J 
), (
K-O
), and (
P-T
). And check out these other ABC's of learning through play: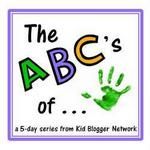 Thank you for stopping by! For more ways to learn and develop imagination through adventure, play, reading, and nature, please join us on Facebook or follow along on Pinterest.